The other day in a bookstore, a book caught my eye: "Deganit the Doctor."
Beyond the appealing 3D Fimo-model illustrations, I bought it because the Hebrew wasn't overwhelming and because it wasn't a "baby book," introducing solid medical ideas and images in a simple format even my kids could understand.
The name of the illustrator didn't ring a bell, because it's written in Hebrew. At home, I sounded it out: "Joe Litchfield"? (Hebrew is a phonetic language, so a silent E can't be transcribed.)
Hmm… sounded familiar, but I wasn't sure from where.
Then, it clicked: a wonderful library book
we read a few years ago, "Everyday Words in Hebrew" (like the one at left, but in Hebrew). It was beautiful! The Fimo-sculpted illustrations brought the vocabulary to life in a way that wasn't babyish enough to tune the kids out.
We all enjoyed it so much, I tried to buy it, but it was out of print and impossible to find. I even considered not returning it to the library… but ultimately, we did take it back. I did buy a set of Everyday Words Hebrew Flashcards that used the lovely illustrations from that book.
Putting 2 and 2 together.
Back at home, on a hunch, I checked the flashcard box for the illustrator's name: Jo Litchfield… the same artist who'd illustrated our new doctor book (in English, it's called Daisy the Doctor).
I realized I must find out more about this British illustrator who has helped my kids so much with the Hebrew… despite (probably) not speaking a word herself!
I was also curious to see if someone so creative had any projects of her own cooking.
As it turns out, she does!
What's cooking in Jo's studios?
From her website, I discovered that Jo actually has a lot on the go, plus illustration skills way beyond the lifelike Fimo sculptures for which she's so popular.
A mother of one boy, it also turns out that Jo's a writer in her own right, having created and illustrated several unpublished books of her own.
And most exciting of all, she just published her first picture-book adventure a couple of months ago, Bit-Bot and the Blob:
The first in a series about Bit-Bot the robot, this book sounds right up my 6-year-old's alley (he loves blobs, he loves robots – what's not to love?): Join George, Monty and Bit-Bot the Robot on their fast-paced, funny and ever-so-slightly scary run-in with a gruesome green blob… Will our heroes meet a sticky end?
The Interview
Naturally, I just had to chat with Jo and pick her brain about kids' lit. She was happy to participate, and I think her answers share a lot of insight into the influence of reading kids' books – as well as how being a parent affects the writing and illustrating process.
WriteKidsBooks: How is a kids' book different from an adult book?
Jo Litchfield: This is a really hard question! I've worked on baby books, but also writing for older children and young adults and obviously those books vary wildly from each other. Every time I think of an obvious difference it seems that a variant of that same rules applies to all books; grab your audience from the start, keep your themes relevant for the chosen age group etc. I think everyone agrees that the best children's books should be a pleasure for an adult to read too, especially when they are to be enjoyed together at storytime, but the type of children's books I work on rely so heavily on the illustrations that I think some key elements of the story can often be left out of the text and told with the pictures. A small child will delight in spotting something going on in the pictures that just reading the text cannot show, when an adult reads to them the child will spend time looking over the pictures, and then it's like they are being let in on a secret that the reader may have missed. I like to think it's those tidbits that draw children into the world of books. That said, a good graphic novel for adults will employ exactly the same technique, so once again, not so much a difference.
[For more on leaving key elements OUT of your story deliberately, and the interaction between text and pictures, see this awesome post I just discovered this morning. But finish reading the interview first!]
WKB: What is your favourite children's book of all time, and why?
JL: There are just too many!
Contemporary Faves:
JL: Of the recent books I've read with my son I love The Pirate Cruncher by Jonny Duddle, Traction Man by Mini Grey and Sir
Charlie Stinky Socks by Kristina Stephenson because they
are all fantastic romps, but for something a bit
more heart-warming, Lost and Found by Oliver Jeffers is just about the perfect picture book. There is a little film of that story too which is also just about perfect.
Perennial Faves:
JL: As for all time, I have a copy of The Water Babies by Charles Kingsley that I have loved ever since I was very small. It's not the story but the gorgeous illustrations by Mabel Lucy Attwell that made it one of my favourites. For the story, then Winnie the Pooh, Paddington Bear, The Cat in the Hat, Charlie and the Chocolate Factory.... I could go on and on.... and on....
WKB: Has being a parent influenced the types of books you're illustrating (and now writing) and the style of your illustrations? (I'm also wondering how you keep your son from playing with your models!)
JL: Yes, absolutely. I am more picky about what projects I chose as time is a lot more precious now I'm a parent, and I admit that I do try and write things that I think my son would enjoy. He's a great sounding board, and although he's getting a bit too old for some of my y
ounger projects now he likes to see what it is I'm working on and will often chip in with his ideas, which can be hilarious and spark even more ideas. As for him playing with my models, I am so lucky! Finn has always taken great care and been very gentle with anything of mine that he's seen, even from a tiny age he seemed to understand that they are fragile. That said, I don't make my models at home, I have a workshop in the village where I live; I think the full sets with all the little objects in place would probably prove too much for him to resist.
WKB: How do you decide which form of illustration to use, Fimo models or hand-drawn pictures? Which type of book suits each form best?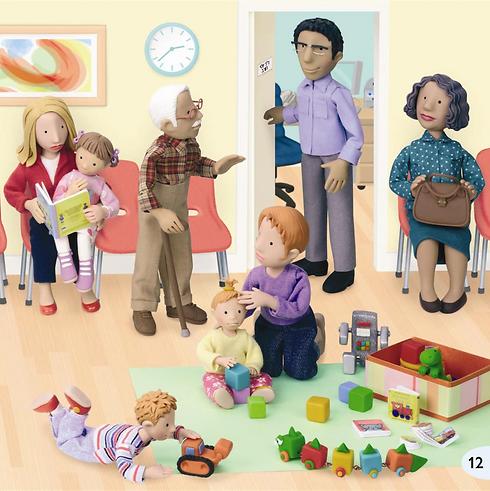 JL: The decision of what style to use is project driven and often influenced by the publisher. I'm trying to make more books using drawn illustrations, but as I am primarily known as a modelmaker, that seems to be what people come to me for.
For my own projects I see them in a certain way right from the very first roughs, and whilst I might change my mind as I work on them, those first mental images often shape the project. I always start with a character or characters, I'll sketch them out and I can usually tell right away if they should be drawn or modelled. But also, less romantically, it can come down to cost; models, sets and photography can run into hundreds of hours and thousands of pounds, a series of books where sets and characters can be re-used again and again are often the ones that are really worth doing with models.
Thanks so much, Jo, for chatting with me! Click her sweet blue balloon monster to visit her own website:
What would you ask Jo if you could? And if you could interview (or READ an interview with) any children's book writer or illustrator, who would it be?