Forget books, amIright? Everybody always gets us books!
Let's just imagine THAT thought process for a second… "Hmm… she's a writer, she likes books, let's buy her a… book!" There's a reason you're the creative genius in the family!
Forget gadgets, forget software… next time you have a gift occasion, point 'em this way to help pick out a gift you, as a writer, truly will adore.
(Heck, if nobody buys them for you, or you have no occasion coming up, I say… buy 'em all for yourself!)
1. Inkless Metal Pen
Never needs sharpening, never needs refills. Never run out of ink in the middle of a great story ever again! Buy it here or a keychain version here.
2. Waterproof notepaper
Again, why lose great ideas when you're literally stripped bare and probably at your most creative? Don't waste time singing in the shower – you're a writer, so write! Buy it here.
3. Sriracha Water Bottle
Gotta stay hydrated while you write, and every trip away from the keyboard is a few moments of lost creativity! Buy it here.
Don't get the awesomeness that is sriracha? Check out this Oatmeal cartoon here.
4. USB-powered Hand Warmers
Keep on typing, right on through the cold! These are USB-powered, so the heat will never go off. I know I said low-tech, but this doesn't count as tech. Buy this toasty model here or a cheapo glove-style model (free shipping) over here.
5. Dave Eggers Literary Shower Curtain
Get back into the shower! This one may be just a tad pretentious… an actual "issue" of Dave Eggers' The Thing Quarterly, published on a shower curtain to make it a useful household object – and perhaps inspire your own writing. Buy it here.
6. A whole whack of The Oatmeal posters!
You can't be a real writer without 'em. Buy the Grammar Posters six-pack here.
7. One more poster – it's about logic, dummy.
What's wrong with your argument? You need this poster if you hope to write coherent articles, blog posts, or reasoning of any kind… Or just draw on this to give you the superskills to demolish your opponents on online message boards. Ad hominen, my foot! Buy it or download a free copy over here.
8. Drinklip Table/Desk Cup Holder
It clips on and holds your drink, hopefully well away from your keyboard. Come on, how many times have you cursed yourself for not inventing something like this? Buy it here.
9. Fred & Friends Silicone Mister Tea Loose Leaf Infuser
That's Mister Tea, to you. I love this little guy, and I think he'd make an awesome writing mascot. Buy him here.
10. Note Me Pillow
Some of the best love stories have been inspired by Post-It notes… and think of the poems of William Carlos Williams, so short, inspired by the prescription pads on which he wrote. Start off your stories – or just leave notes around the house on these eraseable pillows. Buy them here.
11. Liquid Glass Thinking Putty
Forget your thinking hat or thinking jammies… what you need to inspire you is Thinking Putty! Just don't get so inspired playing with this transparent goo that you forget to get any writing done. Buy it here.
12. Ideapaint
Blast yourself into creativity heaven by turning your entire workspace into a whiteboard. Buy the starter kit here.
13. Shakespearean Feather Pen Set
Make everything you write bardworthy… or at least, make it look like you're doing something cool instead of just putting together a grocery list or thinking up names for your villain. Buy it here. ("Let's see… "Bart McBarfington???")
14. Newton's Cradle Desk Ball Toy
If nothing else, it will give your cats (and children) something to watch while you're zoned out in creativity-land. Buy one here.
15. Back in the shower – this time with crayons
Again, you don't want to miss a moment when you might have a great idea. Grab one of these, or a few, and sketch out all your ideas before they're gone! (Plus, they're kid-safe, too.) Why do I keep coming back to the shower? Because it's when my brain first starts waking up in the morning… and if I don't catch those ideas as they flit through, they're gone! Buy them here.
16. Corn-on-the-cob corny corn stripper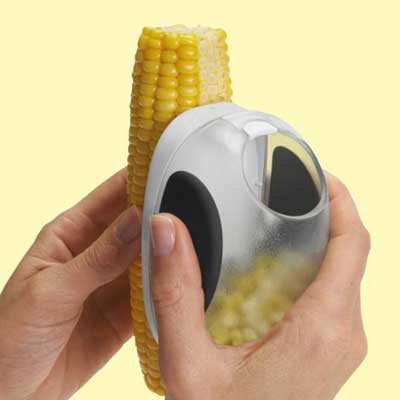 For those dedicated writers who already know how messy it is to eat corn-on-the-cob at the computer while they type. Strip the corn, toss in butter and salt and eat it with a spoon instead – no mess, no monitor splatter! Buy this Oxo model here or a better-rated Kuhn Rikon model for about the same price here.
17. Danby Beverage Center Bar Fridge
Never have to get up to get a drink again while you're in the "zone." Sorry, folks – Amazon says this ships in its own box, so it "cannot be gift-wrapped or concealed." Darn, you'll lose the element of surprise… but gain a month's worth of frosty treats close at hand. Buy it here.
18. Tangle Therapy
Work through those plot issues as you work this slightly-squishy gizmo through your fingers. The gently rubberized surface means you can squeeze it, too, when the going gets tough. Buy it here.
19. Snazzy Message T-shirt
Sadly, not available for sale. But you can design it yourself for $6 at VistaPrint.com.
20. Super-Comfy Terry-Cloth Bathrobe
If you're going to be spending all day in it, you may as well go for one of the best around, and this one is 100% combed pure Turkish cotton. Buy it here.
21. Ponton Fireplace by Designer Wolf Udo Wagner
Poet Adam Kirsch says, "Every writer needs a fireplace," to burn a copy of his book on publication day, as a burnt offering to the Muse he has disappointed. Frankly, I think that's weird. I'd want one just to stay cozy. Buy this ultra-Eurostyled model here.
22. Power Nap Ostrich Head
Great ideas keeping you up all night? You need a power nap, and with the Ostrich Head, you can grab one anytime, anywhere. Notice the crowd gathered around, out of focus, in the background of this picture. If you can't find fame and notoriety as an author, at least you can get attention for your big puffy head. Buy it here.
23. Magnetic Poetry
So many versions of this perennial thought-provoker! Remember, you don't need a fridge handy – use these on any magnetic surface, including many cookie sheets. Hankering for the Little Box of Obscenities? Or perhaps the Yiddish / Jewish version? If you're undecided, just pick up the original here.
24. Old-Fashioned iPad USB Typewriter
I know, I know, I promised you low-tech. But seriously – these are REAL rescued typewriters, not fakes… so how cool (and low-tech!) is that??? Buy your one-of-a-kind off etsy here. There's also a fake version, which works as a full iPad dock, in the works over here.
25. Weekly Calendar
Anybody who works on their own at home knows unstructured time can be dangerous. Sit down each week with a plan. Take it one week at a time and who knows what you can accomplish! Buy it here.
26. Punctuation Jewellery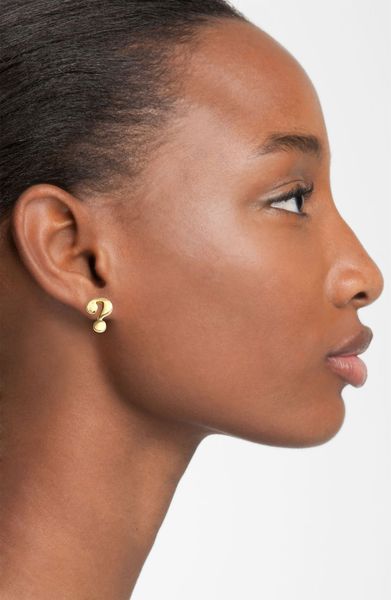 Even writers go out sometimes… and don't you want to make a statement when you do? Or at least end a statement? Or enclose one? The "Say Yes" question-and-exclamation-mark set from Kate Spade is out of stock, but there's a nice affordable pair of quotation marks on etsy here. And for all you guys… buy these punctuation cufflinks here!
27. Dr. Seuss Clothbound Gift Set
Okay, yeah, it's a book… and I said no books. But it's not really "a" book, because it's FIVE of them, five of the very best, by the master. Hard to come by these days, but I love this set, clothbound in solid-colour covers with gold-embossed print. It was literally my graduation present from university. Well, that and a nice frame for the diploma. This one's out of print, but search for used copies here.
Did I forget anything? Any other low-tech toys out there that every writer NEEDS?