Commentators are screeching that Rush Limbaugh shouldn't get an award for a kids' book he published late last year. What do you think?
Now, I'm not American, never have been. I like to think that makes me more objective about U.S. history, politics and political commentary. So okay, Rush Limbaugh came out with a kids' book – on that, I'm kind of neutral.
But when I hear everyone shrieking that he shouldn't even be short-listed for an award for that same book, yeah, I start getting nervous.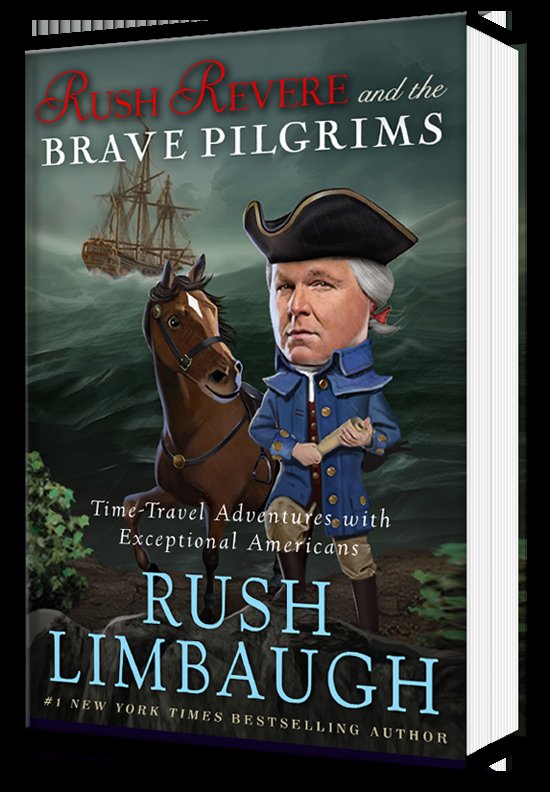 The book came out last October, right before U.S. Thanksgiving (of course) with the stunningly soul-sapping title Rush Revere and The Brave Pilgrims: Time-Travel Adventures with Exceptional Americans. It does NOT sound like a good book, despite Limbaugh's obvious pride in steering the next generation towards his own political beliefs.
Ad hominem attacks
But I have been amazed at the ferocity of the attacks on Limbaugh as a result.
Most of the articles on the subject read less like reviews of the book and more like simple, brutal ad hominen attacks – beating down Limbaugh because of who he is and what he's said on his show, not based on the merits (or lack thereof) of the book itself.
This Daily Beast post, for example, from when the book was released, calls Limbaugh a "degenerate rodeo clown" who "should be kept as far away from kids as possible."
Meanwhile, the Huffington Post huffs, "We Live In A World Where Rush Limbaugh Might Win A Children's Book Award." Seriously? We live in a world where children work in factories and THIS is the issue that you pick to scream about?
Well, fine, but the award finalists, from the Children's Book Council (CBC), are picked based on sales numbers, not on the content of any of the book short-listed for their award. And the book really has done well, sales-wise.
The CBC's response
There must have been some hue (hew?) and cry, because the CBC has posted a letter on its website explaining the reason for the choice. Without naming Limbaugh, they say they "sincerely appreciate your concerns" and clarify that the ultimate winners will be determined by children themselves.
CBC also says, "We have procedures in place to eliminate duplicate, fake, and adult votes during the voting period as much as possible."
Here's where your kids can go to vote, starting on March 25th. And the finalists for this year's awards in the Author of the Year category are…
(Visit this page to read more and see the 2014 finalists in all categories.)
To me, by the way, all of these finalists are disappointing. Why? Except for Limbaugh's book, they're all sequels – big money books from big-name publishers. Not a new or original or independent concept among them. Unless you count Rush Revere, which I probably don't.
The right to read – or not
Frankly, everything about this book is a turn-off to me, starting with the description on Amazon.com: "MEET RUSH LIMBAUGH'S REALLY GOOD PAL, RUSH REVERE!… I've always been the #1 fan of the coolest colonial dude ever, Paul Revere. Talk about a rock star—this guy wanted to protect young America so badly, he rode through those bumpy, cobblestone-y streets shouting "the British are coming!"
Cool, dude. And all cobblestone-y like.
I did find one very positive review, from the Chicago Tribune, that says, "This book is downright sweet. And warm. And positive. It also has an unsophisticated and even corny sense of humor that may underestimate 13-year-olds. But it's never mean-spirited."
But whether critics like it or not, somebody's buying it, I think we've got to support his right to write the book, just as I'm sure he supports our right not to buy it… and our right to let our kids vote against it, if they so choose, starting March 25th.
The proof of the pudding
Can we really hold it against the guy for leveraging his audience and his fans and their millions of kids and grandkids?
Amazon reviews run the gamut, of course, with thousands and thousands of 5-star reviews claiming things like "Forget everything you think you know about Rush Limbaugh… you may be surprised at how quickly you get through this entertaining time-travel story!" along with all the yawningly predictable one-star reviews:
a homophobe, a racist, and a real danger to the nation
I was bombed out of my mind on Oxycodone which made the book bearable.
sniveling, biased, and corny book
I know what you've heard about Adolf Hitler… [but] take an open-minded look at his delightful new children's book about German history. I know you'll love it - unless of course you are a holocaust survivor or something.
Book for egoists and bigots , and what a horrible cover. [I agree!]
I believe that the proof of the pudding is in the voting – I mean, the eating. Which is why I'll insert one more link here before I close, so your kids and teens can go and vote, starting on March 25. If they're read Limbaugh's book, and honestly love it, I support their right to give him their vote.
Undaunted, Limbaugh has now released the second kids' book in the series – Rush Revere and the First Patriots, which is currently #5 in Books on Amazon.com The first book is still hanging in at #13.
By the way, did you know the expression doesn't say, "the proof is in the pudding?" That would be like saying, "you can tell a book is good if it's a book." No, in the classic expression, the proof of the pudding is in the eating. Just as the proof of a book is in its reading. And the proof of a book award is in its voting.
What do you think of the book or its nomination??? Should it be disqualified, and if so, on what grounds?